Email is where collaboration starts
Aside from email communication your Zimbra inbox is a starting point for content sharing & collaborating, chats and video meetings. Zimbra's responsive web client is accessible from anywhere on any device and allows seamless transition between Zimbra's applications. Users can compose multiple emails and easy switch between chatting with co-workers, editing documents or reviewing their calendar.
If you forget to add something to your email right after hitting the Send button or have simply forgotten to include an important recipient. Zimbra's undo send feature gives you a few seconds to stop the message sending so you can make any changes. Zimbra Emails can also be scheduled to send at a future date and time.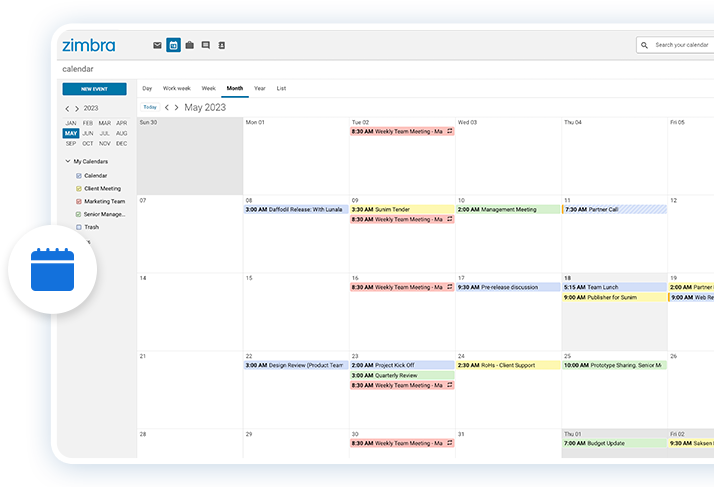 Helps your businesses stay organized and productive
Zimbra's calendar application helps your businesses stay organized and productive, offering a variety of features that can help businesses improve their communication, collaboration, and efficiency.
If you're looking for a way to improve your business's productivity, communication, and efficiency, Zimbra's calendar application is a great option.
Enabling users to efficiently manage, store, share, and edit documents within a secure and centralized platform
With its core server data storage, seamless file sharing capabilities, and integrated online office editing, Zimbra 10 empowers organizations to streamline workflows, enhance collaboration, and improve productivity. Experience the future of document management with Zimbra 10.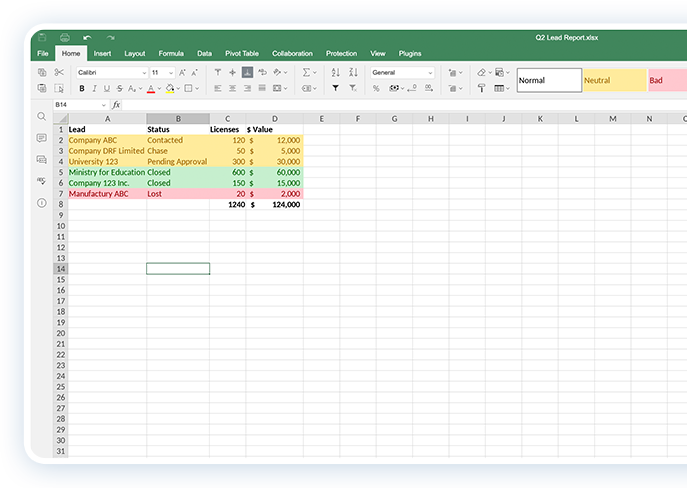 A powerful online editor for text documents, spreadsheets, and presentations
Seamlessly accessed right from within the Zimbra Web Client. Create complex documents, professional spreadsheets, and stunning presentations. Popular formats supported: docx, xlsx, pptx, odt, ods, odp, doc, xls, ppt, pdf, txt, rtf, html, epub, csv. Fully compatible with OOXML formats.
If you are looking for a way to improve your business's productivity, collaboration, security, and cost-effectiveness, Zimbra Office will help you achieve those goals.
A centralized solution for real-time communication, supported by a cloud-based infrastructure
With cross-platform compatibility, it provides all standard end user and admin features, streamlining communication and enhancing productivity. Experience the future of communication with Zimbra Chat and Video.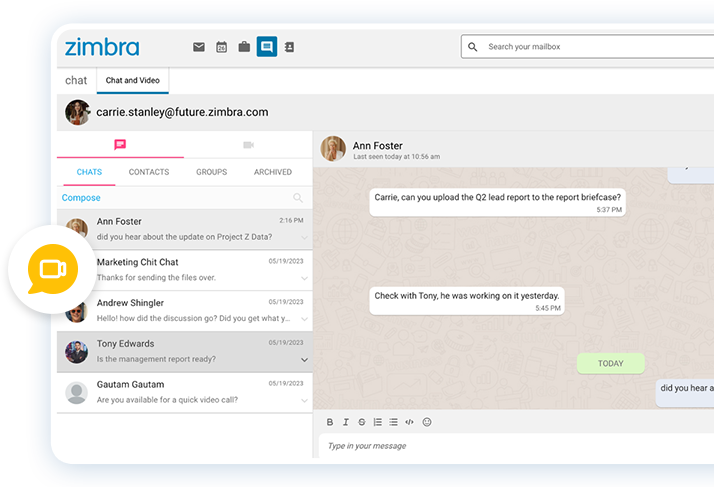 Making Meaningful Connections
Zimbra's backend systems keep your data and connections secure and private.

Modules Reboot
New & improved backend modules

Unified Framework
Improves the performance of critical core components.
Hybrid Work Made Easy
Seamless collaboration features including Chat, Video & Document collaboration.

Future-Proof Solution
Flexibility to add new capabilities as technology advances.

Enhanced Security
Detects and responds to bugs, issues and security threats rapidly.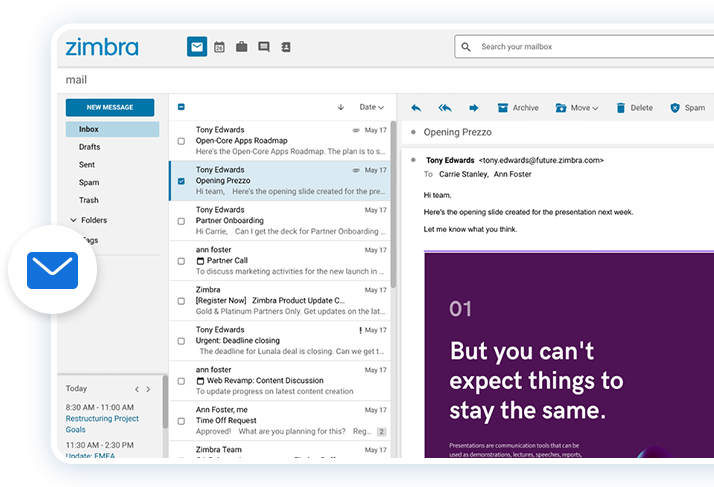 Built from the ground up to provide a clean and simple user experience on any device.
It offers a responsive user interface that is easy to use across devices, has intuitive navigation, supports customizations, is secure and accessible
Manage Your Emails When Offline
Remain accessible to all your email content whether you are online or not.
Zimbra Desktop provides a seamless way to access all your Zimbra content when connectivity is limited. It is an email client that you install on your desktop. Re-read your messages and compose new ones with ease.
Zimbra syncs automatically and delivers any new email in/out of your mailbox as soon as your device goes online.
Available for Windows and Mac OS, Zimbra Desktop is available under Network Edition license.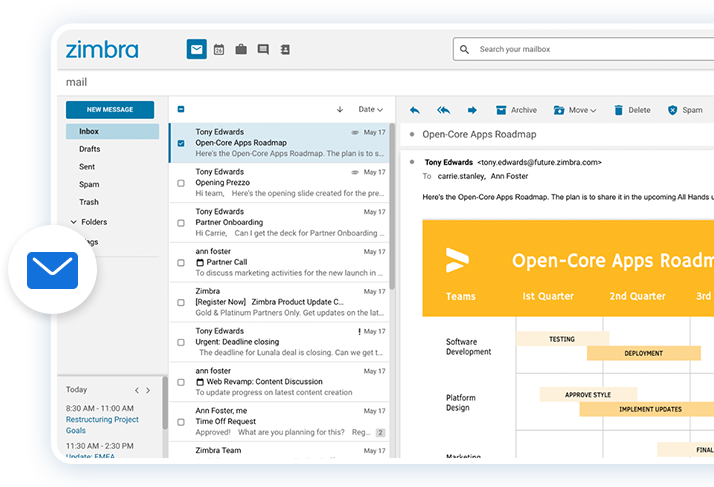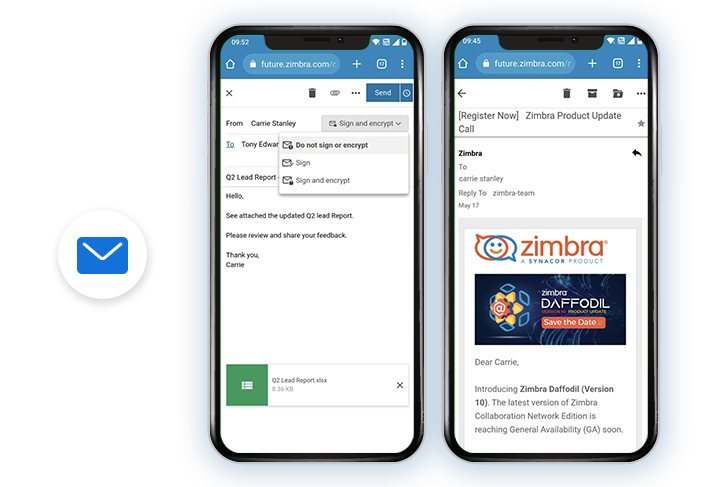 Zimbra ActiveSync
Zimbra's mobile module allows you to synchronize your Zimbra mailbox and shared folders on any ActiveSync device without any additional or third-party client.
Shared Folder Sync
Now you can synchronize calendar and contacts that has been shared with you in Zimbra to your device.
More Reliable. More Control. Adaptable.
Zimbra's core mobile module is tweaked and optimized to be compatible with the vast majority of devices on the market. The new mobile UI included in the Zimbra Administration Console gives you full control over your devices. It grows and adapts to your needs, not the other way around.

zimbra
CAN'T FIND WHAT YOU ARE LOOKING FOR?
Today's email threats move fast, and malicious files look more and more like ordinary files. Growing businesses need predictive email security to defeat today's threats with an eye on the future.
Libraesva ESG filters all internal emails as well as inbound and outbound email traffic to protect organizations from email-borne threats and data leaks. It provides both spam filtering and spam protection against advanced threats like phishing, malspam, business email compromise, and account takeover. We block over 99.9% of phishing and malspam attacks!
We use our own sandboxing technologies to scan all links and documents. URLsand and QuickSand quickly scan all links and documents for active code and evasive behavior. This prevents users from visiting dangerous links or receiving and opening malicious files.
Simple and easy to deploy configurations guarantee that customized email protection is in place in a matter of minutes. Depending on your needs, you have the option to run in the cloud or on-premise. Cloud instances of Libraesva ESG are the most secure in the industry thanks to our dedicated, private cloud deployments. There is no need to worry about shared environments or certificates.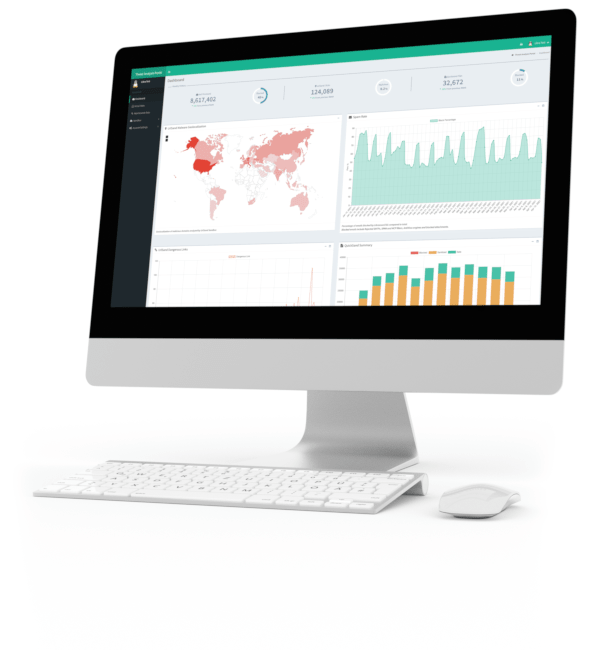 Email Security Gateway Features
Spoofing Protection
Libraesva ESG allows you to identify and block imposters, as well as prevent others from spoofing you. We analyze a combination of SPF, DKIM, and DMARC authentication techniques and email headers to block spoof attempts. You can quickly generate DKIM keys to use with your own domain for better security or for DMARC alignment.
Protection against malicious files
Zero-Day Attacks are common, and anti-virus engines cannot be depended upon to stop them. They rely on antiquated definitions and updates that can come too late. Our QuickSand sandbox defense stops never before seen malware hitting users by lowering the risk to effectively zero. Documents and PDFs are scanned and sanitized or blocked before reaching the inbox.
Protection against malicious URLs
Phishing takes advantage of the weakest layer in the network—the human layer. Spoofed websites are emailed to users, requesting sensitive information. URLSand provides time-of-click protection against malicious URLs. All links are scanned for bad behavior, and then stops users from visiting unsafe websites.
BEC and Impersonation Attacks Protection
Business Email Compromise results in the greatest expense to victims. Losses due to BEC approach $2B per year and are only increasing. Using advanced algorithms, Libraesva ESG protects against impersonation attacks, such as BEC, CEO Fraud, and Whaling, so you are less likely to fall victim to one of these attacks.
Respond quickly to security threats
The difference between a successful and failed cyberattack can come down to response time. Each email has detailed reports, which provide deep visibility into targeted threats. Advanced attacks are stopped in their tracks. SIEM systems and other applications can be easily integrated for complete visibility.
Threat Analysis Portal
TAP is your all-in-one dashboard to analyze email attacks and trend data for your organization. Get greater visibility to attachment and URL sandboxing, as well as historical filtering rates, which you can compare to global data. You can quickly see if your organization is under attack by comparing yourself to others around the world.
Threat Remediation
On occasion, something malicious may arrive in a user's mailbox. When this happens, threats are quickly and easily removed from users' inboxes with Threat Remediation. From a central location, search for the suspect email and retract it. The email is deleted forever or stored in a safe location for further analysis. Users never know something bad arrived in their inbox!
Email Encryption
Encrypt emails end to end by using the on-demand encryption engine. Your sensitive data, information, documents, and files can be emailed without concern about being hijacked. Libraesva uses the most secure methodologies to ensure no one, except for the intended parties, is able to decrypt your email.
Email Continuity
Now that Microsoft 365 and Google Workspace are the world's most popular email services, companies falsely believe their email will always be available. Wrong! Be prepared for definite downtime with Libraesva ESG Email Continuity, where you can read, compose, and reply to email in your inbox even when your email platform is down.
Manage your email on the go via mobile
Threats don't just happen while you're at your desktop, so you must be prepared when on the go. Libraesva ESG includes a mobile app with many features. Easily manage Office 365 and Google Workspace inbound emails and the quarantine while away from your desk.